Make it and Mend it:

An introduction to practical and creative sewing skills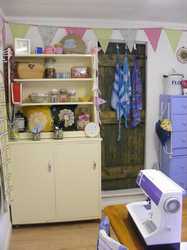 The 3 month course is designed to build confidence through the gradual introduction of new sewing skills enabling participants to repair, make and embellish clothes and accessories.


French Knots Craft Studio has a number of tutors experienced in teaching and inspiring people of all ages to explore their creativity, producing lovely and practical items with an emphasis on enjoying the process.



New sewing skills will be introduced and built on at each session allowing everyone to learn about using a sewing machine to make clothes and accessories. Participants will have 'make and take' items to take home with them after each session made using their new skills. They will also have a handout to take home, covering what they have learned and building up to be a useful sewing resource. Owner Jo Johnston has produced step-by-step craft guides for magazines as well as handouts for course participants.




Four 3 hour sessions will be offered over a period three months, starting with a basic introduction to how the sewing machine works and making a drawstring bag then moving on to making a pencil case or makeup bag with a zip, a pair of pyjama bottoms and finally a skirt. Each participant will
receive a certificate following completion of the course celebrating their new skills.





£25p/p per meeting including most equipment and material. Minimum class size of 4.